Pioneer Valley Weavers
September 13, 2022
We are a guild of weavers united by our common fascination with the interlacement of fibers. Some of us are just beginning to enjoy weaving, others are fairly proficient and a few are professional weavers. Several of us are at the loom every day while others struggle to find small bits of time in which to weave. We weave on large looms in separate rooms devoted just to weaving and small looms on the kitchen table. We gather to encourage and learn from each other. PVW is the sum total of our actions, reflected as our reputation. Join us!
Meetings are held on the 2nd Tuesday from September through June at WEBS, 75 Service Center Road, Northampton, MA, in Classroom 3.
(As our meetings are in the evening, when WEBS is closed, access to the meeting is through a back door. When facing WEBS, drive between the building and stockade fence at the left of the building. Take a right around the building to park and access Classroom 3 through the small door to the left of the large garage door. If not open, knock! The area is well-lighted.) Social time begins at 6:00 pm, followed by a business meeting at 6:30 pm The evening's program will start at 7:00 pm.

Pioneer Valley Weavers wish to express their gratitude to WEBS for their long-term and generous support of our Guild and our programs
.
September's Presentation
Card Weaving Mini-Workshop with Patricia Kapitzky
Please bring a belt to the guild's September meeting
.
Patricia Kapitzky has been a Public School music teacher, a Church cantor, organist and choir director. She has taught private lessons in piano, guitar, clarinet and ukulele.
When Pat's two children were young she took a year of weaving instruction at Hill Institute, a card weaving class at WEBS with Barbara Elkins and a Navajo Rug weaving class at Harrisville Designs with Tom Jipson.
Pat found that Card Weaving easily lends itself to the environs of children's summer away camp. She taught card weaving for many summers at a children's camp, Aldersgate, in Connecticut. The children learned to weave bracelets, headbands and belts. They practiced the weaving techniques and learned the vocabulary of weaving.
The simplicity of the equipment and techniques of card weaving lends itself to great creativity. You play with size, shape, color, fiber and found objects.
Please bring a belt to the guild's September meeting. You will stretch the warp threads between your belt and a clamp on the table or a hook on the wall. Pat hopes you will have some fun with the cards and twisted warp.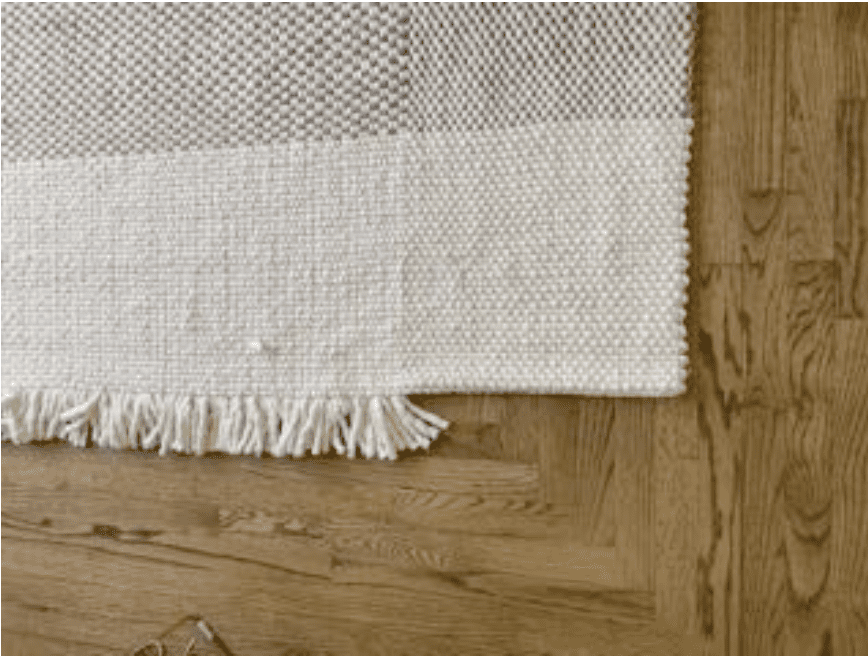 Fringe doesn't always need to go to the ends.
A partial fringe can be quite effective!
Welcome back everyone to what promises to be a year of meeting in person. Currently, WEBS does not require masks, so masking is your choice. We will let you know if this changes. Our September meeting will be in person at WEBS in Classroom 3 and our meeting schedule will resume with a social time 6:00 – 6:30pm; the business meeting 6:30-7:00 pm; and the evening's program starting at 7:00pm. At this time, WEBS is not allowing food or drink to be served during the meeting.
We have an exciting year ahead with a few hands-on programs as well as a group of speakers we hope you will enjoy. Pat Kapitzky will begin the year with a Card Weaving mini-workshop. The program schedule is included in this Newsletter.
It's time to think about a project we can work on during the year for the NEWS Guild table next summer. We began a color project last year that we can continue for NEWS 2023. The unifying theme is color and project drafts can be chosen from either Carol Strickler's "A Weavers Book of 8-Shaft Patterns" or Marguerite Davison's "A Handweaver's Pattern Book" or a draft from Handweaving.net. The project can use any number of shafts, must include a minimum of three colors and must be flat. Please bring any other project ideas you want to consider to the September meeting.
I look forward to seeing you in September. Nina
Membership
Membership in PVW renews annually.
The guild year runs from July 1st through June 30th. Dues are $30., which includes monthly programs from September through June, access to PVW's vast Library, discounted workshop fees, and access to our loaner looms and our Newsletter. Other benefits are occasional notices of outside workshops, looms and equipment for sale, exhibits from other guilds, reduced entry fees for NEWS exhibits, and inclusion on the NEWS Guild Table Display. To maintain membership, dues must be received on or before the October meeting.
Our Membership Chair is Peggy Wolff. You can mail your check for $30. made to Pioneer Valley Weavers to Peggy at 126 Cave Hill Road, Leverett, MA 01054