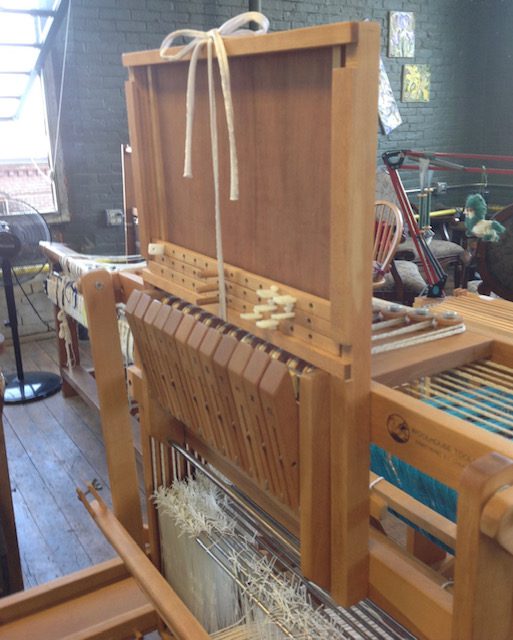 LOOMS ($50 damage deposit – check to be held and returned when loom is returned without damage). 
23″ weaving width
12 shafts
Footprint: 38″ wide, 30″ deep
Weight of loom: 33.5 pounds
Weight of stand: 15 pounds
Baby Macomber
$35 per month
24″ weaving width
8 shafts
REEDS – except for the Macomber SS, all have some rust.  The heights vary.
| | | |
| --- | --- | --- |
| WIDTH IN INCHES | DENTS PER INCH | BRAND |
| 23.5 | 12 | Appears to be cut from a longer reed |
| 25 | 15 | |
| 27 | 8 | |
| 29.25 | 10 | |
| 37 | 12 | |
| 37 | 5 | Leclerc |
| 37 | 10 | Leclerc |
| 37 | 17 | Metric |
| 37 | 16 | Leclerc |
| 41 | 12 | Whitaker |
| 41 | 10 | Whitaker |
| 46.5 | 10 | |
| 48 | 12 | |
SHUTTLES
Boat: open bottom
Boat: closed bottom
Belt: 8″ long
Stick: 10″ long, 7½" winding length
TEMPLES
Purple: 16″ – 24″
Red: 12½" – 18″ (with no clamping band)
Orange: 8½" – 12″
Yellow: 7″ – 9″
TEXSOLV CORDS
6 @ 38″
13 @ 38″ +/-
Warping frame
Capacity: 13 yards and 4″
39″ wide x 36″ tall